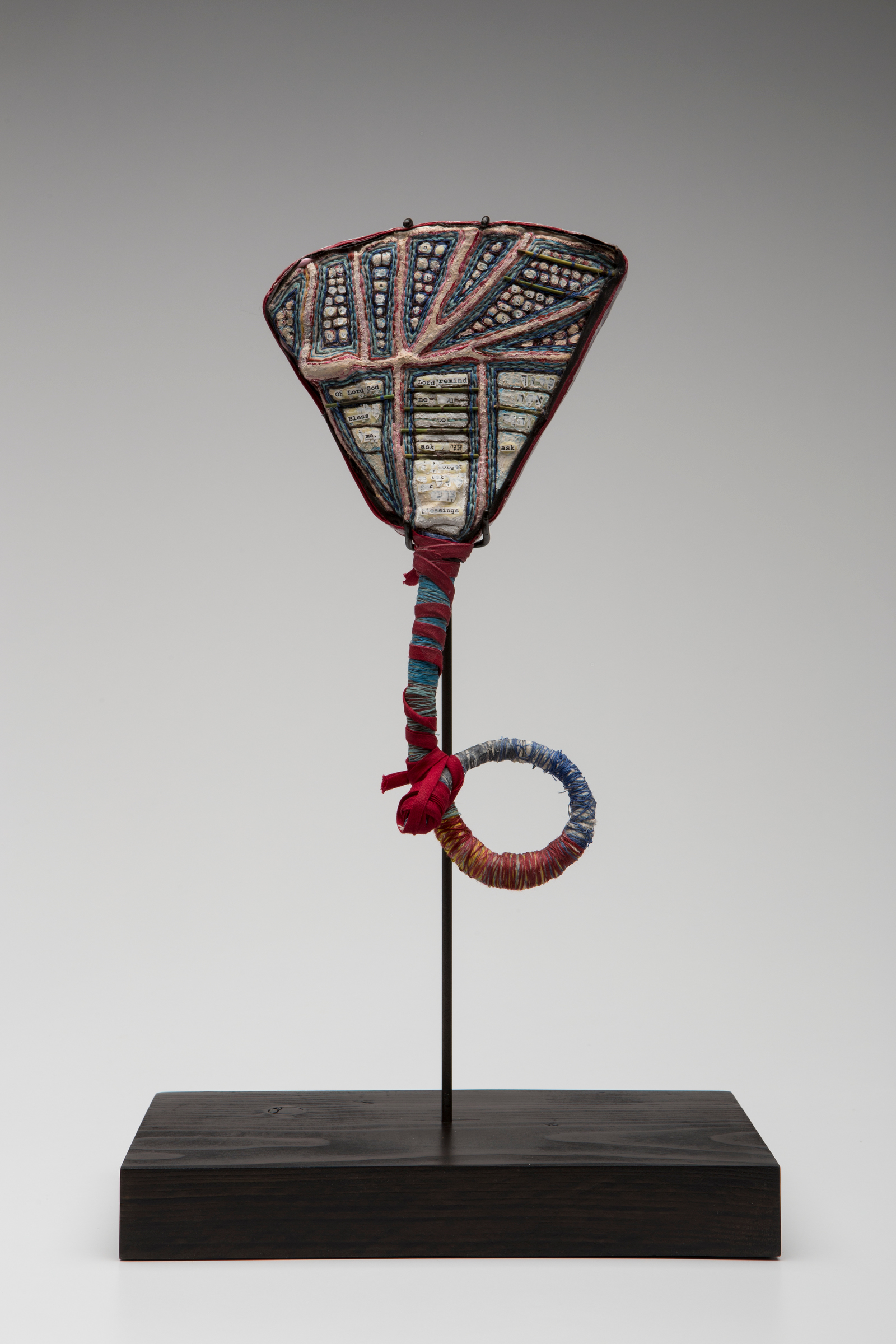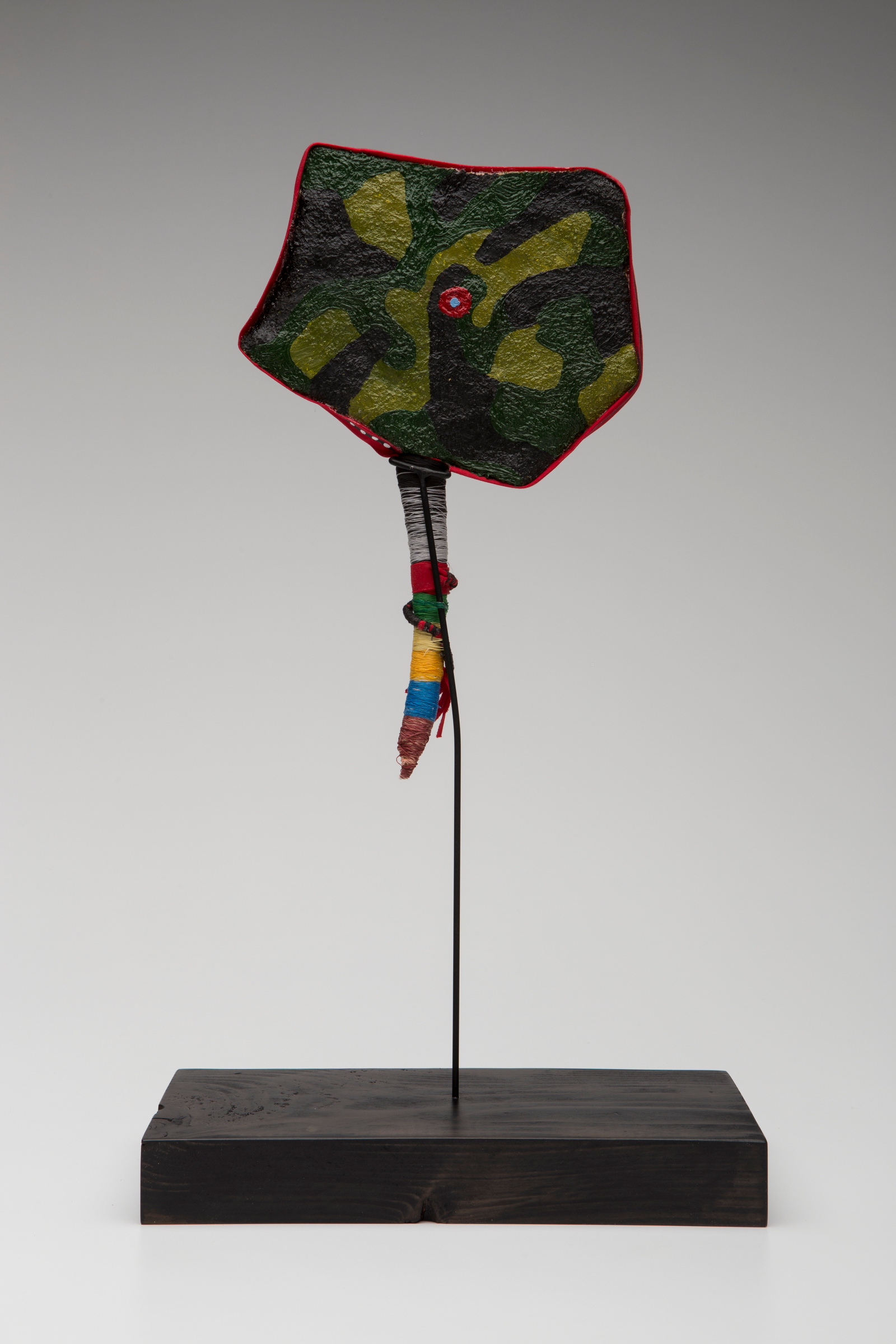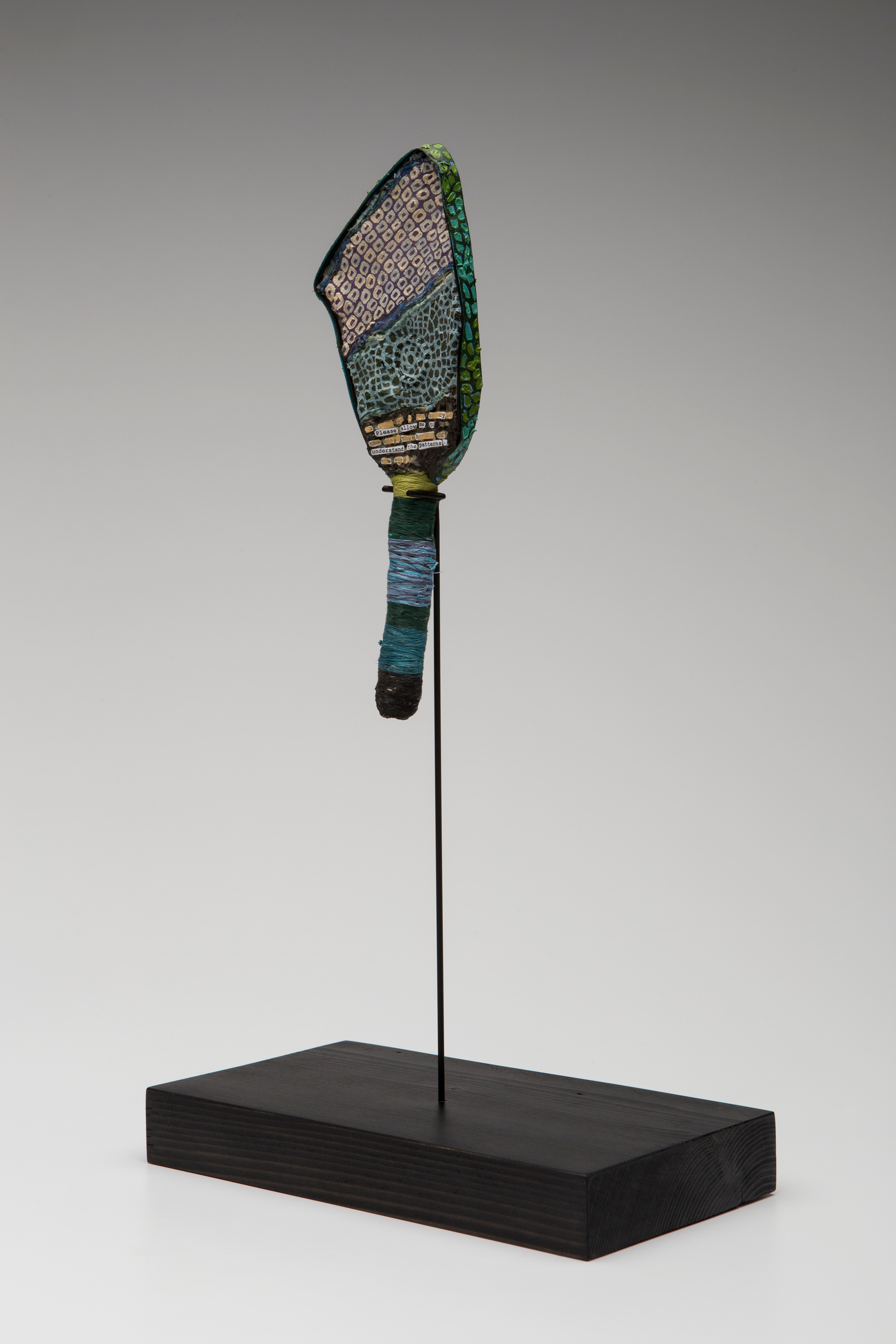 Prayer Paddles #1-16
wood, wire, oil paint, fabric and collage, installation approximately 96 inches x 36 inches x 27 inches, 2010.
By its nature interdisciplinary, my most recent endeavors draw upon a diversity of traditions and techniques in order to fully encapsulate and express my belief that visual art, in its most potent state, functions simultaneously as public ministry and private meditation.
A current project titled, Prayer Paddles 1-18, is inspired by feather fans from the Western Andes, a Medieval manuscript illumination of The Book of Psalms, Hand Crosses from the Orthodox Christian Church and the autobiographical clarity and modesty in the journals of Henri Nouwen. Such disparate sources are unified by the theme of prayer. These three-dimensional, hand-held, embellished, painted sculptures celebrate the immediacy and privacy of oft-repeated invocation. The miniature "cells" filled with marks and text refer to the body, as no meditation on spirit can exist without consideration of the meaning of flesh.
The impetus to paint has always contained within it a more primal and insistent call for spiritual clarity. My Jewish Grandfather escaped Nazism in Germany and subsequently converted to Catholicism as an immigrant in Mexico. My mother practices Catholicism, but my Grandmother retained her Jewish identity. Ironically, it was in Mexico that I felt most identified with my heritage. It was inherent to my Grandmother's nature to advise us to treat others as we ourselves would choose to be treated, to reach outwards towards the poor and the weak, to despise injustice, and to pursue with a passionate intensity the expression of our highest truth. The manner through which I sought spiritual and psychological insight was painting. I never knew that my hunger to transcend myself in this manner masked my deeper hunger for clarity of religious identity. I never understood that my Grandmother's "Jewish" ideals were universal ethics embodied in all world religions.
In 2004, I began to read the Bible, related Christian writing, Gnostic gospels and Buddhist texts. These documents described varieties of spiritual yearning and allowed me a rediscovery of an original voice that had become diluted as I strove to shape myself to cultural expectation.
The front of each paddle is encrusted with text and embellishment while the back expresses the reason that we need prayer, and is painted in variations of military-issued camouflage fabric